Syngenta Group is committed to building on our rich network of strategic sustainability partnerships with academic institutions, the food value chain, agricultural businesses and farmers to increase the impact we can make together.
We believe that no one business or organization can do enough alone and strongly support Sustainable Development Goal 17, which promotes partnerships between governments, the private sector and civil society.
Our partners know us for our open and collaborative culture, and we invite like-minded organizations to join us in stepping up efforts. To this end, in our Good Growth Plan we commit to:
Build cohesive partnerships and publish their sustainability objectives
Launch innovation dialogues for inclusive consultation on sustainability
Board level governance of sustainability
Our progress against these targets will be measured and published each year in our Sustainable Business Report.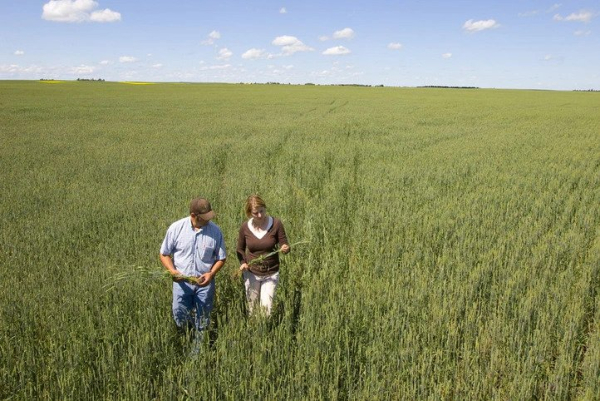 Build cohesive partnerships and publish their sustainability objectives
Our partnerships have always proved productive for farmers, nature and society. As part of our new commitment, we are publishing transparent information about who we partner with and what are our joint goals for sustainability.
A good example of this approach is Innovation for Nature, our collaboration with The Nature Conservancy (TNC), a global conservation non-profit organization.
We are working together on business practices aimed at improving sustainability including soil health, resource efficiency and habitat protection. This collaboration also focuses on incorporating sustainability science into our decision-making process: TNC worked with us to develop our Sustainability Investment Criteria. These criteria ensure the $2 billion we have committed to accelerate innovation are directed at products, services or programs offering a clearly differentiated sustainability benefit or are breakthrough technologies enabling a step change in sustainable agriculture.
Consulting with stakeholders on breakthrough innovations
Innovation is the basis for a more sustainable future. But with innovation comes uncertainties.
We have always been proactive in addressing our products' environmental and socio-economic benefits and risks as part of product registration. Now we are going further by having Innovation Dialogues with diverse external stakeholders to address sustainability trade-offs and dilemmas linked to new technologies. We will be transparent and publish agreed outcomes. The aim is to strengthen Syngenta Group's value proposition, increase our alignment to new societal and market needs, and build stronger collaboration with partners.
Reviewing our sustainability actions at Board level
Improving the sustainability of agriculture and of our operations is at the core of our business and is governed at Board level. The Syngenta Group Sustainability Committee will review and approve our operational sustainability practices, including public reporting, and oversees our sustainability framework and standards including The Good Growth Plan, our strategic sustainability partnerships and the Innovation Dialogues.
Partnering for impact supports the UN Sustainable Development Goals
Partnering for impact on the ground
We joined with The Nature Conservancy and the Kellogg Company to help farmers improve their conservation practices in the Saginaw Bay and Great Lakes watersheds in Michigan, U.S. As a result, farmers are building a more profitable and sustainable supply chain through demonstrating how conservation practices enhance natural resource management and support water quality.
The program received the Field to Market Collaboration of the Year award 2017 for outstanding partnership in advancing the sustainability of U.S. agriculture.
Receive articles like this
Receive articles like this
List #1
Roles you might be interested in
List #1
Articles you might like


My Garden: The grand finale
Summary
The My Garden project started by our Syngenta Group Ambassador comes to its grand finale, with a group of friends enjoying Aleksander's fresh produce. Over the past few months our Syngenta Group Amba
Read more